U.S. Consumer Product Safety Commission – Fast Track Recall
Release Date: May 11, 2023
Release Number: 23-200
Positec Recalls Blue Ridge Utility Knives Due to Laceration Hazard; Sold Exclusively at Target
Recall Summary
Name of Product: Blue Ridge utility knives
Hazard: The recalled utility knife can become unlocked and the blade can protrude only while in the original packaging, posing a laceration hazard.
Remedy: Repair
Consumers should immediately and carefully inspect the packaging containing the Blue Ridge Utility Knife to determine whether the blade tip is protruding through the package. Carefully remove the knife from the packaging, avoiding the blade tip, and discard the packaging. To apply the repair, secure the knife by retracting and locking the knife in the closed position. Once the knife is removed from the packaging, the knife can be used in typical fashion.
Consumer Contact:
Positec toll-free at 855-516-3557 from 9 a.m. to 5 p.m. ET, Monday through Friday, email at utilitykniferecall@blueridgetools.com or online at www.blueridgetools.com/utilitykniferecall or www.blueridgetools.com and click on "Recall" at the bottom of the page for more information.
Recall Details
Units: About 36,250
Description:
This recall involves the Blue Ridge Utility Knife with a six-inch retractable blade.  Model number BR922OU is printed on the back of the package. The knife is silver in color with the Blue Ridge logo printed on it.  The packaging is blue and teal with an orange-and-white mountain logo at the top.
Incidents/Injuries: The firm has received two reports of the blade protruding in the original packaging, both resulting in laceration injuries.
Sold At: Exclusively at Target stores nationwide and online at www.target.com from August 2022 through February 2023 for about $5.
Manufactured by: Positec USA Inc., of Charlotte, North Carolina
Manufactured in: China
Individual Commissioners may have statements related to this topic.  Please visit www.cpsc.gov/commissioners to search for statements related to this or other topics.
Photos


Recalled Blue Ridge Utility Knife in packaging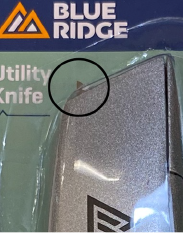 Recalled Blue Ridge Utility Knife protruding blade example
Fast Track Recall
 About the U.S. CPSC
The U.S. Consumer Product Safety Commission (CPSC) is charged with protecting the public from unreasonable risk of injury or death associated with the use of thousands of types of consumer products. Deaths, injuries, and property damage from consumer product-related incidents cost the nation more than $1 trillion annually. CPSC's work to ensure the safety of consumer products has contributed to a decline in the rate of injuries associated with consumer products over the past 50 years.
Federal law prohibits any person from selling products subject to a Commission ordered recall or a voluntary recall undertaken in consultation with the CPSC.
For lifesaving information:
– Visit CPSC.gov.
– Sign up to receive our e-mail alerts.
– Follow us on Facebook, Instagram @USCPSC and Twitter @USCPSC.
– Report a dangerous product or a product-related injury on www.SaferProducts.gov.
– Call CPSC's Hotline at 800-638-2772 (TTY 301-595-7054).
– Contact a media specialist.